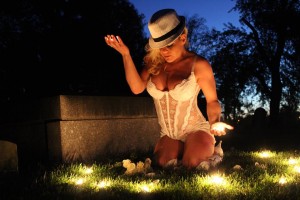 Get Your Buzz Up is glad to be joined by a woman who gives it her all whether she's recording or performing. She just recently released her latest video "Psycho" from her upcoming album "Blessed With The Curse: RELOADED". We're speaking of J. Irja. Let's get to know more about her in this edition of our "Buzz'N" iNterview series.
We really appreciate having you do this interview with us J. For starters, bring our readers up to date on who you are, your background and the type of music you create.
Thanks for having me, you know I've got mad love for Get Your Buzz Up! You already know who it is J. Irja the SpotLight Queen aka The Sexy Psycho. Some of you might not know I was born in Canada and grew up in Wisconsin pretty poor. I hated seeing my parents struggle so I started hustling all over the Midwest at a young age. I fell in love with the rap game and started rapping for anyone who would listen and they did. I guess the rest is history. If you really want to know who I am just listen to my music. I rap about my real life; the highs and the lows. If I said I been there I been there, believe that. I don't do "wishlist rapping".
It's no secret that you are the first lady of Spotlight Entertainment and rep it to the fullest. You even had the namesake tattooed on the side of your head! That's what you call full dedication right there. How did you become involved with the label and what part do you play in the company?
Its crazy, I actually tried out for SpotLight three times. I recorded my first track, a dis track, at their original studio. P kept telling me I wasn't ready. When I came back the third time with my own demo I was twenty-four and that's when SpotLight and TopShelfilms knew something was different. I tatted my head and at that point everyone knew I was serious. SpotLight crowned me The Queen, The First Lady. I grinded harder than I ever had before in my life and it payed off. Everything happened so fast, all of a sudden everyone was talking about this new crazy white girl rapper. After dropping my first mixtape, the CEO and I couldn't settle on contract terms so I took some time to explore myself and really find my voice. I pushed forward and independently released my two new videos "Let It Die" and "Psycho", which I co-directed with BlindFolksVisions. It's a two part story of my transformation into The Sexy Psycho. But dont get it twisted, I am and always will be The One and Only SpotLight Queen. I Am the Queen of the Spotlight. Period. So stay tuned on that note…
You may only be 5 feet tall but your stage performance blows the roofs of venues wherever you perform. Why do you feel it's necessary to always come out at peak performance whenever you're rocking a show?
I hit that stage every time to RIP it, an energy just takes over when I grab the mic. Its a natural instinct, a fire inside. People look at me crazy like "what is this little white girl gonna do?" So I gotta show them, make them Feel my music, acknowledge my presence. I'm there to tell my story and connect to anyone in the audience who can relate, who's feelin it. MC to me means "move the crowd", I'm an emcee. As they say in my birth country its that "je nais se quoi", that "it" factor, that raw energy. But with every performance I always see ways I can up my game and use that to make my next performance better. I've came a long way but there's plenty of room for improvement and growth.
Your first mixtape, "Blessed With The Curse", was hosted by platinum selling producer DJ Pain 1 and showcased your rapid, fire lyrical delivery and explosive energy. Why did you decide to choose that certain title for the mixtape? Also, how did Pain 1 & you come to meet?
I feel like I can be my own best friend and worst enemy at the same time. My biggest strengths are also my biggest weaknesses. That's the "Blessed With The Curse" concept. I think alot of people can relate to that inner struggle, that battle between love and hate between good and evil. DJ Pain 1 killed it, I've got alot of respect for him. I actually met P in 2011 at the Wolygator release Madison Hip Hop Awards. It's even crazier because that was my First ever rap performance. I didnt know how big it was going to be. I was nervous af in the bathroom like Eminem off 8 mile (Laughs). Once I hit the stage and had that first taste, when I heard the crowd rocking with me, I was instantly hooked. Damn… Ive come a long way since then. In a way I guess DJ Pain 1 witnessed the true birth of my rap career (Laughs).
Hahaha, that's true though! You also fell thru High Noon Saloon in November of 2013 for a featured performance during our "Get Your Buzz Up: Industry Experience". We got to experience all the energy you bring to the stage. You put together a nice promo video detailing the night also. Could you talk a little bit about that night and how you became involved with our brand?
Thanks, yeah that was a crazy night! I actually got pulled over on my way down and was searched on the side of 151 for an hour! I had no time for makeup and basically went straight on stage, just me and the mic. But thats what sets artists apart, how do you handle the pressure and can you still deliver?! You damn right I will every time! I had a good time with ShaH and DJ Pain 1 on stage, thanks for the drop too fam. Anyone who does music in Wisco knows Get Your Buzz Up is where it's at. Ive messed with GYBU since I started releasing music online and love watching the different interviews especially with Tech N9ne.
It's all love, we're glad you made it to the show that night! So J, you're currently working on your next project, "Blessed With The Curse: RELOADED". You've dropped two videos from the project so far. One of those videos being for the song "Let It Die", where we hear you dig deep into personal woes & struggles. What inspired the lyrics and direction behind this particular song?
"Let It Die" is about the struggle, it's raw and uncut, deep down to my core. It touches on the things I went through in my career; trying to deal with my contract issue with my team, being a female in a man's industry, finding my true voice. My addictions to money and alcohol. I expose some really dark issues about myself to my listeners that I hope they can relate to. I want them to know the real me both good and bad. I'm not perfect but I'm not trying to be. I accept my faults, embrace my flaws and fight my fears. Like the angel in the graveyard being stalked by a demon in "Let It Die". It depicts me being haunted by my inner demons that I have to conquer and come to terms with in order to move on. At the end of the video you see me burning each weakness of myself and transforming into my new alter ego The Sexy Psycho.
That brings us to your latest, and by far, craziest video titled "Psycho". Talk a little bit about the video and "Blessed With The Curse: RELOADED". What & who can we expect to hear on it? Do you have a release date set yet?
"Psycho" depicts the battle within myself between where I have been, where I am and where I'm going. It's bout embracing my darkest moments in life and using that pain for a purpose. The video also depicts the conflicts between all my different personalities. People call me crazy for being a little white girl spitting the way I do in this game. IdDGAF! I just want to share my story and empower people, especially females. It's hard to be a lady in a mans game but you have to go ten times harder and be ready for the criticism. Im all about female empowerment, thus the nautical stars on my head. Hate me or love me. It doesn't matter if you're talking good or bad about me, as long as you're talking.
All I can say about "RELOADED" is its harder beats, crazier true stories and one hell of a collab. due dropping this fall. Youll be the first to know when the release date is official.
That's what's up! We will definitely be keeping an eye out for it. Now you've really came into yourself this past year; from beat selections to lyrical content to the way you promote your brand and music. Congratulations with the success btw! Do you share that same view and if so, why?
Thank you, Ive been moving all over from Wisco to Chicago to Portland to KC down to Houston, grinding making these hand to hand cd sales. I feel really blessed for the amount of support I've been getting. The more work I do, the more I realize how much more work I really have to do, if that makes sense? (laughs) I'm just glad I took the time to find my voice and really humble myself this past year. Judging the T Pain Showcase Competition and opening for T Pain on the Drankin Patna Tour in Kansas City was huge! I got to meet some amazing artists. This summer has been insane! I'm just grateful to be able to reach new listeners everyday and continue to share my story.
Mz. Irja, where can our viewers find you online?
Google me baby (laughs)! My website is www.spotlightqueen.com all my links are on there.
Lastly, is there anyone special you'd like to thank or shout out?
I'm thankful for everyone who has helped me make it to this point I'm at. Everyone from Mac Man who recorded me professionally for the first time, to Shahid Smith for believing in me before anyone else did, to SpotLight and TopShelfilms for really putting me on the map and everyone who ever jammed with my music. And thank you for your continued support! Shout out to DJ Pain 1 and ShaH Evans. Most importantly, I salute The Big Man above for making this all possible. #Salute
J. Irja is fueled by a burning passion to share her story to those with ears to hear. The Sexy Psycho refuses to let her gender restrict her from being viewed as a dope emcee in a male dominant field. Make sure to keep your eyes peeled out for her upcoming project "Blessed The Curse: RELOADED" when it drops and for any upcoming shows via her social media outlets. We here at GYBU would like to thank The Spotlight Queen for taking part in our "Buzz'N" iNterview series and wish her the best of luck in her music career. On that note, we'll see you next time Buzzers.
Interview by: @blitzb_60505