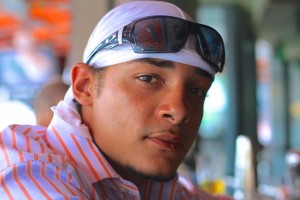 It's August and summer's slowly coming to a close. But before that has a chance to happen, we're heating things up with our latest "Buzz'N" iNterview with rapper Twinn5, who served time in the military in Afghanistan and who just recently relocated over to Los Angeles, California. With that being said, let's get things rolling.
Twinn5, thank you for taking part in our "Buzz'N" iNterview series. You have an interesting name. Could you please describe the meaning behind your name and let the readers know where you are originally from?
My name comes from my group, The Twinn Squad. I'm twinn5 out of the six of us.
You've lived through some major conflicts. One of those hardships was the murder of your mother when you were a teenager. If you don't mind, could you share the story behind this tragic event? Was the suspect ever apprehended and brought to justice?
I don't really know to much behind the whole event. From my understanding, it was a drug deal gone wrong and she was beat and left for dead on the side of the road on the west side of Madison, Wisconsin. The police took her to the hospital where she unfortunately past away. There was never a police investigation, no nothing. They really just swept it under the rug…
Our condolences Twinn5, hopefully justice will one day be brought to this terrible event. You've explained that you were a hellion during your teenage years. Being poverty stricken and having a lack of parental control set you on a destructive pathway. Did music help you deal with your situation during those times? It seems that alot of teenagers are on a similar path. Could you offer any advice to them on how to overcome the mindset such as the one you once had?
Yes, hands down music saved my life. I had felonies at the age of twelve and was out selling drugs, robbing people and the whole nine. It was horrible and all I had was music. It was my escape and that even extends to my time in the service in Afghanistan. Music has always been there for me when no one else could, would or cared to be.
My advice to the kids is to keep your head up, it will get better with time. All you need to do is make it threw the darkness. There's always a brighter day and if the darkness didn't exist you wouldn't respect the day.
Powerful words Twinn5. When you turned seventeen, you enlisted into the army and served a four year term (2008-12). During during your enlistment, you were deployed to Kandahar, Afghanistan, the birthplace of the Taliban. What was the experience like for you?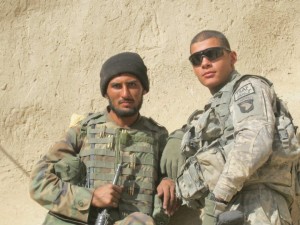 It was like anything else in life, it had my ups and downs. I dealt with everything from discrimination to being dehumanized. At other times I' recieved awards and met the Secretary of Defense. My platoon has a video of our deployment on Youtube: 101st Airborne: Kandahar, Afghanistan. The video basically sums up my deployment as well.
After returning home in 2012, you took a year off to recoup and you then decide to take production courses at the Madison Media Institute. Could you touch on this topic for our readers? What was the experience like? Was it at this point that you felt music was your main focus now?
I loved MMI, I learned so much and the people there were amazing, especially the allstar staff. I strongly encourage anyone looking into getting into the music field to definitely attend MMI.
Going to MMI wasn't when I started focusing hard on my music.  I've been doing music since i was thirteen and I just needed to get my self in a position where I could maintain and develop my craft after the Army.
You're currently in Los Angeles, California attending film school in Hollywood prepping your album "Tales of A Legend". How is the project coming along thus far and what can we expect from it?
It's coming along great, kinda hard to juggle school and work but i make do. The album is little pieces of my life story  like my views, how bad it really is out here and how we get it in and turn up. There's something for everyone to relate to and groove out to on it.
Your first single from "Tales of A Legend" is "I Pray". Please explain the meaning behind the song.
"I Pray" is a story of how you can only knock a person down so many times before they lash out like a cornered dog. I originally was going to call it "The Good, The Bad and The Ugly" to portray the changes of a man over time but after things get ugly whats the first thing everyone does?  They pray, so for that reason I choose the "I Pray" title because it best suited the song.
What's next from Twinn5 in the coming months & years?
You know me, I going to keep grinding and getting it out the mud! I'll be releasing songs off the album in the coming times. I'm also working on the video for a track called "Hustle to Maintain" that ill be dropping soon, so I'm just working trying to get it.
Twinn, where can we find you online?
You know I'm on Twitter:  @twinn_5
Soundcloud: twinn5
Reverbnation: twinn5
Facebook is CJ Robinson & i also have a fan page there too twinn5
And of course you can check out the website twinn5.com
Lastly, is there anyone you'd like to shout out or give thanks to?
I'd like to give a shout out to my fans who are holding ya boy down and making this possible. Shoutout to my squad, there's way to many of you to list and I'll be home soon! Shoutout to Godzilla, DJ Pain 1, Frequency Kings and my entire family.
How we cope during hard times defines ones character. Twinn5 has proven that even though once a product of his tough environment, he has overcame adversity and in turn, has turned coal into diamond. Keep in tune with Twinn online for his upcoming album, "Tales of A Legend". This is GYBU with another installment in our "Buzz'N" iNterview series, we're out.
Interview conducted & written by: @blitzb_60505