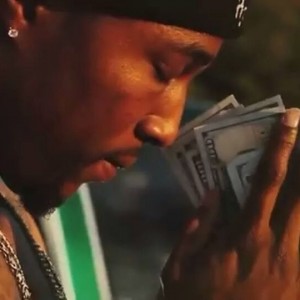 What's good Rayski? Let everyone know who you're, where you are from and what you do.
What's good? I go by the name Rayski Baby. I'm originally from Shreveport, Louisiana but currently reside in Fort Worth, Texas. I'm the co-owner of Silent B Entertainment alongside Branden "Uncle B" Brown. Right now I just feel like I'm that dude. I might not be the most-lyrical but that is not me, that's not my goal. If I wanted to go that route, I'm sure I could but that's not my style. My style is more of realistic; I tell you how it is, RAW with a mixture of lyrical metaphors. I call it that Louisiana/Texas, maybe because I was born in Louisiana and then spent half my life in Texas but I'm just that dude that makes "HITS" and soon the world will know!!!!!
Being a native of Louisiana, who were your influences on the come up? Now a resident of Texas has there been any new musical inspiration from that region?
Of course being from the boot, I was influenced heavily bye No Limit, Cash Money and later on Trill Ent. Growing up me and my boys thought we were the Hot Boys, lol I was the Lil B.G. We would freestyle all the time at school and in the hood and people started noticing my talent wanting me to rap all the time and even write their raps for them. When I moved to Texas things were different because like I said I'm from Louisiana and things are different, meaning the rap styles. In Louisiana it was more tell it how it is straight up just rapping your life-style were as in Texas, I was introduce to a whole other style. They were more on punch lines and being creative, so with that being said that's when I really started writing and started thinking and coming up with punch lines of my own. As I started writing more, that's when I really started getting into the whole song process thing because I noticed a lot of people were good at free-styling but couldn't make good songs so I was the person who wanted to make good music period. But mostly I would say I was influenced bye the people I was surrounded by, my hood, my
environment, the way I was raised, the things I seen and been through and that's on the Louisiana and Texas tip.
Talk about your company Silent B Entertainment. What's the goal for your brand and what can we look out for in the next 6 months to a year?
When I first started, I was just making music for me and my friends to just listen to. It wasn't anything serious at the time; it was just something to do. When things got serious it all started with a phone call between my mother and my grandmother. They were on the phone talking about how my Uncle B was changing his major to business because he wanted to start his own record label. So my mom was like "Ray raps and he is pretty good" next thing I know Uncle B was calling me and was like I heard you rap and I was like 'yea I do a little something" he was like "is this really what you want to do?" and I was like "yea!" and he said "lets do it then " than we formed Silent B Entertainment and we been making strives in this music industry every since. It seems like every year things
gets better and better. I just feel like with the right push behind us the sky is the limit and beyond.
You are also a member of Da Deputy's Global Respect Crew. How is that affiliation different from your own company? How has it helped your career thus far?
Silent B is the label; Global Respect is the team, a set "GR-SET". A team of artist's who just want the world's respect and the freedom to make great music. The affiliation came across when I hooked up with Da Deputy, he came up with the idea to put together a team. At the time it was just a smart thing to do, every major artist that was doing something had a team behind them. My team is the truth; we all bring something different to the table. We push and thrive off each other living that "In Due Time Life", knowing that one of us gone knock the door down in this industry and let us all in.
I see you are promoting your latest single,"Hate On" Remix ft Lil Boosie's artist Donkey of Badd Azz Entertainment produced by Twanbeatmaker. What was the creative approach when making this record and how did you and Donkey link up for the remix?
I try to make music that people can feel, that real life music for real life situations. I just be in the studio vibing. When the beat came on this melody just came in my head and I guess that's how I was feeling at the time. It's something everybody should be able to relate to. If you got somebody hating on you are if you ever have been hated on this should be your anthem! It's turning a negative into a positive, meaning if you got somebody hating on you trying to bring you down let that be your motivation to overcome whatever it might be. Tell them "Hate On" and prove them wrong. The collaboration with Donkey came about when Uncle B reached out to him. Uncle B sent him the track and he said that tang raw and did his thing on it. Donkey is just a real dude that keeps it 100. When I had a show out his way in Baton Rouge, Louisiana, he reached out to Uncle B and said is wanted to meet me. When we meet up, he was like man you got something with that song. I been letting my people listen to it and we need to shoot a visual for it, really put it out their cause when Boosie get home it's fend to get crazy. Donkey invited us to him and Boosie hood and everything, southside Baton Rouge across the tracks where we shoot his part of the video. Donkey and Tracklife/Badazz Entertainment, that's family nothing but respect on both ends, I been collabing and rocking shows with Donkey and the fam every since.
You went back home to shoot the video for 'Hate On', what was it about Shreveport that made you want to rep your city on this song?
I'll never forget where I'm from, I could never forget the city that raised me and helped made me into the man I am today. I just wanted to give my people the chance to be apart of something that I feel is gone turn into something great. I feel if you can make it in Shreveport, you can make it anywhere. Me going back had nothing to do with the hate that goes on in the city are that the city receives but everything to do with the love I get from my day one people that believes in me and rooting for me to succeed. I'm like a gateway out I'm hope for my people.
So the single is off of your upcoming mixtape "Fresh Off Probation", which will be
hosted by Ya Boi Dj Earl. What can we expect from the release? Any special producers or features we should watch for?
Yes the single is off my upcoming mixtape entitled, "FRESH OFF PROBATION"
meaning the wait is over! They been waiting on my new stuff to drop after my debut mixtape "Rayski's World" which is on live mixtapes hosted by Djtaydontplay and DjHood and basically I took the time off on purpose because doing the recording for the Rayski's World mixtape, I was currently on probation so it was certain subjects I could speak on and talk about, that's why on that tape I'm touching on a lot of different subjects. I'm really showing you how I can make all kinds of music from street, club, freak joints or relationship issues straight hits. With this new tape, I wanted to get back to the streets because I'm from the streets and without the streets these days your music can only go so far so I waited until I was "FRESH OFF PROBATION"! As far as producer's I'm still
looking for beats and I got a couple features in mind that were gone reach out to but I'm willing to work with anybody that's in the game right now.
What's next for Rayski?
In the future I really see myself on top of my game. A true mogul in this industry, making million/billions, I might be the first one to put together a trillion dollar move lol but I just want to be able to give others the chance and opportunities to make their dreams come true just like I'm striving to do WHEN THE BLESSED BECOME THE BLESSER!!!
Where can we find you online?
You can find me on all these sites are just Google me Rayski Baby
instagram.com/rayskibaby
youtube.com/rayskibaby
twitter.com/rayskibaby
facebook.com/rayskibaby
Any last shout outs?
I want to
give a special shout out to Uncle B, one of the hardest working man I know, my team and everybody that supports me on my journey of what is just destined to happen!