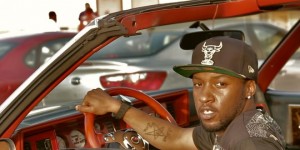 It's summer, it's July and it's also the month that Madison, Wisconsin's M City is prepping the release of his latest mixtape, "City Lights". Get Your Buzz Up had the opportunity to catch up with him for another installment in our "Buzz'N" iNterview series, peep game.
M City, other than being symbolic of your hometown of Madison, is there any other special meanings behind your stage name?
M City is short for Mad City, which is what people call Madison, Wisconsin. I was also born in Chicago, which is known as the city but I was raised mostly in Madison. I feel like if you combined those two city you'd get me. I've spent more of my life in Madison so the M goes first and the City comes second cause its where I was born and it will always be a part of me.
You are well known for battling other rappers and for your freestyle game. To those unfamiliar to this, please shed some light on some of your most well known battles, toughest competitors and titles you've held among the cypher scene.

Yeah man, I've battled all over the United States. Some of my best battles, just to name a few, would be M City Vs DC. That was my first battle in Chicago and the crowd was hostile at first but I gained everyone's respect by the end of the battle ( I won obviously). Another memorable battle was with D Mars because I had taken a break from the battle circuit and everyone wanted to know if I still had it. One of my toughest competitors ever was Arkcash because he was very prepared and I wasn't at all. I freestyled all three rounds and he was over prepared and cooked my ass! Lol. As far as titles go, I'm still and always have been Mad City Mic Clubs Champion for a few years straight now. Meaning I'm undefeated at home.
You recently traveled to Chicago for the Danger Zone Battle League Turf Wars 2 battle and went up against rapper Dan Ryan. How did you get involved with the event and is it safe to ask who came out as the victor?
My battle with Dan Ryan was postponed and is actually going down on August 17 in Chicago now. I'll let yall know what happens aka I'll let you know how many points I won by! It's either gonna be a classic or casket. I became involved wit Dangerzone thru Shah Evans and his fam hooked me up with the first battle and we been rocking every since then. Big s/o to Levi "LBoogz" Halsell.
In your opinion, what is the difference between a battle emcee compared to a studio emcee? Do you feel you can only be one or the other or can an artist excel in both fields?
The difference between the two is that battling is more about performance and putting on a show. A Studio mc is more about lyrics and how well you can rap and create music. To be honest, most battle mc's suck at making music and most studio mc's suck at battling. Can you be good at Both? Of course, look at me for example! Lol but in all seriousness, it's rare someone excels at both but it is possible.
You dropped a video for "State of Mind" which was directed by Wavvy Will. How did the two of you link up and is this a song being featured on your upcoming "City Lights" project?
Yes, the song will be featured on "City Lights" and I met Wavvy Will thru Twitter and we just been rocking every since then. He's very talented and also is very Fair with his prices. If you need anything from videos to beats, hit him on Twitter at @WavvyWill.
Speaking of "City Lights", it was slated for a July 4th release."State of Mind" was a dope cut and alot of heads have been waiting for it to drop. If you don't mind me asking, why did you decide to push the release date back?
Yeah, it was scheduled for release on the 4th of July but there was just too much going on personally and professionally for it to be released then. Plus, I still needed a few features and last minute things. So the new release date is on August 31st (which is also the day of my only son's birthday).
Other than yourself, what artists & producers will be featured on "City Lights"?
As far as features, I kept it strictly in the fam. I got my brother A Profit, my cuz J Real is on there, I got my right hand man KY, Jordon the Hustler and Lil D, two members of my crew Fire Army, our R&B singer Mark Anthony and last but not least, a feature from Sincere Life. On the production side there are alot of up & coming producers I'd like to work with in the future.
What's up next for M City? Any other projects or battles coming up you'd like to share with our readers?
I've got a group compilation coming out with my crew Fire Army. The mixtape is going to be called "We Were Soldiers". Then my brotha A Profit got his mixtape, "Catching Fire", coming shortly after that. Then him and I have our long awaited mixtape, "Best of Both Brothers 3", which is the next installment in the mixtape series we've released. On the battle side, I got Dan Ryan this month, a cat named Illa in Milwaukee and a big name battle following that. I cant tell ya the details with that battle until the contracts are signed but he's a Smack battler.
Where can people find you online?

My Facebook is: Marcus MCity Chavous 
My Twitter is: @MCity1 
You can also find me on Sound Cloud https://soundcloud.com/marcuschavousjr
and Youtube as well.
Lastly, is there anyone you'd like to shoutout?
Yeah, I'd like to s/o my family first and foremost. My team Fire Army aka Flame Gang for their tireless support. My city cause yall are who I do this for and last but not least, God because with him anything is possible!
From blazing battles to prepping projects, M City is no stranger to adversity and perseverance. Stay tuned to GYBU and M City on social media for the release of "City Lights". This is Blitz for GYBU and we're ghost.
Interview conducted & written by: @blitzb_60505