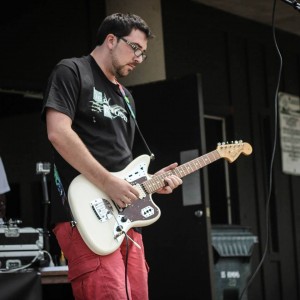 What's up Buzzers? We're back with a new edition in our "Buzz'N" iNterview series. For this installment, we have Madison, Wisconsin producer/ rapper Chris LaBella aka FreeQuenC. So without any further ado, let's kick things off.
How's it going Chris? Thanks for joining us for the interview. To get things started, please inform the viewers about who you are and what you bring to the table as far as music goes.
My name is Chris LaBella but most of my friends just call me by my last name. I am an artist. I'm a guitarist first and foremost, vocalist and producer as well. I rap but I don't really consider myself a rapper, it's just a piece of the musical puzzle.
Being as though you are from Madison, Wisconsin, what are your views on the music scene out there? Do you feel you standout among the masses and why?
I think there's a lot of talent in Madison. Unfortunately, the way things, there isn't many opportunities for the talent to shine. Which sucks because it prevents a true culture being formed behind not just music but all art forms. I don't think I'm too different from other artists out there. I make all my own beats, play my own bass lines, and mix everything down on my own. But what really sets me apart is that I play my guitar while I rap and sing. People seem to like that.
Alongside Sillabul, you guys form the rap duo Drt Mindz. You two previously released a project titled "FTW". Please explain how the two of you met, the focus of the group and if there will be any more music from Drt Mindz coming out.
He and I have known each other since about 2nd grade when we were in cub scouts. We started making music together back in 2007. In a nutshell, the idea behind DRT MiNDZ is this; the average person is bombarded by thousands of ads and agendas every day. This constant flow of information over time causes people to buy certain things and think certain ways, essentially brainwashing them. We think it's important to get your mind dirty and think independently rather than simply recycling opinions and being part of the hive. As of right now DRT MiNDZ is in hibernation, but rest assured we will rise again like a rabid bear ready to maul some salmon.
You aren't just known as Chris LaBella but also as FreeQuenC. Is there a distinction between the two monikers?
A: FreeQuenC was/is a moniker I use when I produce instrumentals and beats for other artists as well as when I work with Sillabul as DRT MiNDZ. I've been using it for years but when I decided to buckle down and focus on my career as a solo artist I didn't want to hide behind any veils, so I decided to use my real name.
You're currently working on your debut EP titled "Flyaway" and your first single was an acoustic guitar laced, soul sampled filled soundscape titled "Livin On Dreams". Why did you choose to release this as the lead off single and what was the inspiration behind the making of the song?
To be honest a big reason it was the first single is because it's one I've had around for a while now and it was a pretty straightforward video to shoot. Plus, I really love the "do do doos". The inspiration behind the track was a bad relationship I had, we always seemed to be blaming each other for mistakes we had made early on in the relationship. We kept it going for a while because we each had this ideal in our heads but it just wasn't meant to be.
Your latest release & video is for the title track to the EP, "Flyaway", which is another personal type of record. Could you speak more about the video and Paige Taylor?
This video was done by Peter Campbell (@PeterFilms). I met him at the Rap Genius Ranch earlier this year at SXSW and he really liked the song. I dig his work with Save Money so we got to work once we got back to the midwest. As the title suggests, the song is about feeling stuck and wanting to fly away. Peter's concept for the vid was that this kid is stuck at a strange party where everyone is on loop. He imagines flying through the clouds away from the monotony. He sees a girl (Mary Pat Letourneau) at the other end of the BBQ doing some strange, repetitive movements. Towards the end of the track she breaks the loop and does her own thing as she dances in the rain. Paige has a great voice. This song was only her second time singing into a mic. This track was really frustrating to get to sound how I imagined but when I showed it to Hip Hop and he said it was radio ready I knew it was there.
Other than prepping the EP for release, are you currently working on any other projects or productions?
I'm currently producing and engineering entire projects for a handful of artists from around the Southern WI/Northern Illinois area. I'm also starting to put together the follow-up to this EP, which I'm aiming to get ready for next spring. I'm also in the process of trying to piece together a backup band so that I don't have to perform over an .mp3. If there's any dope drummers, bassists, keyboard players or DJs out there that are interested in working together, drop me a line.
Other than music, is there anything else you'd like the readers to know about?
I'm a Cheesehead til I die. GO PACK!
LOL! It's almost time for football to kick off again. Chris, where all can we find you on the world wide web?
My website is: www.chrislabellamusic.com
You can find me on Facebook, Youtube & Instagram by searching: chrislabellamusic
I'm also on Twitter: @chrislabella608
Lastly but certainly important, is there anyone you'd like to shoutout or give thanks to?
Shoutout to all my family and friends that encourage me to keep making music, without you guys I'm nothing. Also big thanks to my friend and mentor Chris "Godxilla" Taylor, he taught me nearly everything I know about engineering and production.
Chris LaBella is a gifted musical talent and by his recently released videos, his "Flyaway" EP is sure to appeal to hip hop fans and crossing over into mainstream. Make sure to cop it upon release. This is Blitz for Get Your Buzz Up and we're out.
Interview conducted & written by: @blitzb_60505