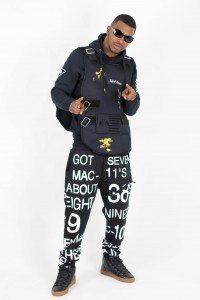 Hey Cadilac Stacks, whats good? Let everyone know who you are and what you do.

What's going on people. I go by the name Cadillac Stacks aka HP the only way to be and I do a lil bit of everything far as me being an artist, a song writer, engineer, and even a producer at times. I'm also a full-time Motivational Speaker & Teacher or per say A Gentlemen of Leisure which most would consider to be a Pimp but hey you can call it how you see it.
Where did the name come from? any story behind it?

Well the name really came from my love for the the old school american cadillac. I had about 2 or 3 in my life and even before that I was always infatuated with them Cadillacs man. I guess that wood grain and them leather seats with some clean whitewalls on that thang just always did something to me since a kid and when I had to come up with a professional name for the music industry the name just clicked u know wit me liking Cadillacs and I like stacks so it right there the name was born just like that Cadillac Stacks it's self-explanatory. Even though a lot of people know my first rap name was Hass-Jux which later just turned to Jux.
On the come up who were some of your musical influences and why?

I listened to everybody really from Ugk, Mac Dre , 8ball & MJG, Tupac,Biggie, Jay-Z, Camron ,50 cent all the way to Common, Mos-Def to the Delphonics and Al Green. I just have an overall love for good music. Also my big brother who was once signed with Disturbing The Peace Records gave me a lot of influence being the first rap I eva spit was his.
Being out of Englewood NJ and repping 40 Love Nation, talk about the team and how you guys plan to move through the industry.

By storm! We have a lot of powerful music coming out of the 40LoveNation camp that I think the industry is lacking and is in high desperation for. Hip-hop is not dead it's just needs a new-angle to it and that's what we're here to provide and let the world know there's some true talent coming out of Englewood,NJ and a lot of big records.
What's the name and concept of your current single?
Been Pimpin and it really tells it all in the title. Coming from my background not to glorify the streets I always was around Pimps,Playas, Hustlers and all other kinda figures who were involved in the street life and me being a Gentlemen of Leisure myself I figured why not give the people me in the rawest most uncut version you can have. "Been pimpin since been pimpin since been pimpin thou". Shout out to all the P's and def to my big bros Serius Jones and Free Reek aka Rico P
You recently toured through New England with iStandard, talk about that experience and the response from the crowd.
The experience was definitely live and full of energy. We went to Boston, Rhode Island , Connecticut and all 3 cities showed a lot of love we just trying to expand the brand and let the world know "ain't no love like 40 Love" and big shoutout to J Hatch and I standard for rocking wit us we def appreciate it.
How do you describe your stage show to someone who has never seen you perform?
It's like watching Jay-Z, Pimp c, and 50 cent perform all in one. You gonna have some laid back songs some live ones and some where its all intertwined in one. I gotta give a big-shoutout to my hype man thou and my personal friend Trap Boy Pockets because he's like a show himself and always keeps the crowd going.
Whats next for Cadilac Stacks?
From The Corner To The Sauna LP is dropping somewhere around the end of May.The Ep is already out now in the local stores. We're just trying to tighten up a few ends to present the project the best way possible to the people far as visuals, features, and getting a couple samples cleared. But we're working hard everyday ,we're in studio all night non-stop just making records Big records.
Where can we find you online?
You can follow me on Instagram at & @Cadillac_Stacks or my twitter _CadillacStacks. Also you can hear my Ep From The Corner To The Sauna on Soundcloud.com/cadillac-stacks and for any updates or footage of what's going on wit the 40LoveNation camp you can follow the fan page on Instagram at @40love_nation
Any last shouts?
Yea def wanna give a big shout out to J Hatch & I-standard. My whole 40LoveNation Management team Clus,L-Money ,Mel, Qua the A&R of the year, Pop,Trapboy Pockets, Azeez, Cy , Choplife , AstrokidzInc and everybody who's supporting the 40 Love Nation and def to God cuz none of this would be possible without the man upstairs.