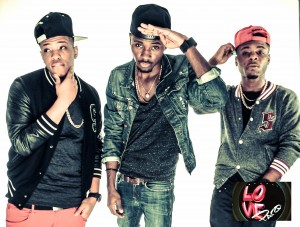 Whats up LoVe ParQ? For those new to the name who are you and what do you do?
We are Philly's Own LoVe ParQ An Upcoming Urban/pop Group.. And We LoVe to Sing.
How did you guys come up with the name?
The name LoVe ParQ is actually based from a historical place in Philadelphia presently named "Love Park" its a place where creative people go to express themselves and us as a group we felt the name would fit best because the name represents where we come from and where we use to rehearse and express our creativity and because we like to stand out and be different.
Who are some of your musical influences?
Some of our biggest musical influences are Chris Brown, Michael Jackson, Jay-z, Justin Timberlake, Tank, & Donny Hathaway Just Too Name A Few.
You don't see to many urban pop groups these days, what makes LoVe ParQ stand out from the rest?
What makes LoVe ParQ sand out from the rest is our drive individuality, creativity & our Amazing ability to captivate people's attention and think outside the box whether it be our sound in music, song writing down to our performance skills.
LoVe ParQ stays busy, seems like you guys have racked up over 6 albums in your catalog, describe your work ethic for those who don't understand the grind?
The loveparq grind is real lol We are currently doing an Anti Bullying Campaign Musical Production with as many schools as possible called "Plant The Seed Grow The Dream" during the week and daytime encouraging the kids to Stop the Bullying, violence and gang and drug prevention. Then we working out on top of that, studying, practicing, writing, & working on being better then our last projects our grind consist of working from sun up to sun down keeping things consistent owning our gift and craft we work hard because we believe in ourselves and our music that much more we believe to be the best you have to beat the best and even when we get to their level set another bar to be greater then the relevant.So Grind Yes.
You have also had an opportunity to open up for Grammy nominated artist Mack Wilds and newcomer August Alsina and are preparing to open up for Sevyn Streeter. How do you prepare for these performances and how have they helped your career thus far?
Well taking on these bigger stages is definitely humbling to us first and foremost but we're always working hard and preparing so we can stay ready for any moments like these or bigger. Opening for acts like these have opened doors for us and also have given us the maximum exposure needed to progress our fan base.
Talk about your debut acting premier in 'A Date With Fame', what was this experience like and is this something you see yourself doing more of in the future?
Shooting the movie "A Date With Fame" was extremely fun for us we all wanted to act because we're characters ourselves at time especially on stage or even joking around with each other lol but acting allowed us to really become someone else for that moment but overall it was great the cast was great our team it was really a blessing to be apart of and definitely something worth pursuing in the future on a bigger scale.
What's up next for LoVe ParQ?
There truly are no limits for us to be honest but we have a lot of shows coming up in the near future we have a lot in store for the fans so stay tuned. More shows, more movies, more business, LP Clothing Line and more great music.
Where can we find you online?

You can keep up with LoVe ParQ by following us on Instagram, Twitter, Facebook, YouTube, Soundcloud, & Download The Mixtape On Datpiff By Searching LoVe ParQ. Check the websites.
Www.sholizentertainment.com and www.loveparq.com Especially dope rappers or singers that want to collaborate Holla at our management. We can lace your hooks drop a verse. Dope Producers. Holla at US. MixTape DJs that need official drops etc. Definitely rock with us. We here to stay.
Any last words or shout outs?
Well we just want to give a Shoutout to God First, The Fans Please Keep Supporting Us Our Team & Label Sho'l Iz Entertainment Inc. Andre Williams & Silver Back Gorillas Management & Promotions.