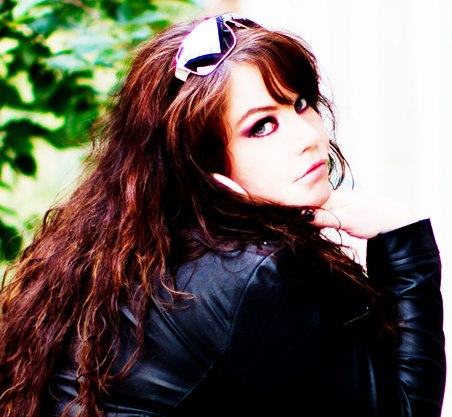 For this installment of our "Buzz'N" iNterview series we had the opportunity to get to know more about rising soul singing CandaceK.
Firstly, we'd like to thank you for partaking in our interview series CandaceK.
Could you share with our audience who you are and your musical beginnings?
Thank you so much for having me. I'm a genre-bending singer and songwriter who grew up in West Virginia. I'm pretty sure I was singing as soon as I could figure out that I could, but the earliest recording I have of myself writing and singing songs was about age 2. My parents are both musicians, and my grandfather was a preacher, so there was always a lot of music around. I just picked up on it and never let go.
You've had the experience of having residing in a multitude of areas, from Ohio, Florida, West Virginia & New York to name a few. Do you feel being exposed to so many different environments has helped you in your musical development?
Most definitely! Being that I span jazz, blues, funk, soul, and R&B, all those genres make up who I am as an artist. For example, living in Dayton, Ohio exposed me to the roots of funk, as I got to work with some legends. But even when I wasn't moving around physically, I was moving around musically.
"The First Step" EP was your debut project back in 2012. What producers did you work with on that project and how did your fans & critics respond to it?

I worked with a few different folks for that project. It was the first time I got to work with my soul brothers Brooklyn Beatz and LittlestBrother (Chuck.$oul[beats]). Those two are amazing. I also had the opportunity to use beats from E Jones of the Soul Council, Life and Death Productions, Jay Hu, and ID Labs.
I was truly overwhelmed by the response to the project. I always am. I honestly just make music because there's a burning desire inside me to do it, and the fact that people feel it is just stunning to me.
Early last year, you released a collab effort along with BrooklynBeatz titled "From Brooklyn to Birdland" in which the two of you created an entire Jazz inspired album. Please explain how the project came about and why BrooklynBeatz & yourself choose jazz as the theme for the project.

It was inspired by the melding of hip hop and jazz. The two of us are students of both, and it just kind of happened. BrooklynBeatz sent me the track I ended up using for "Go Blind" at first, and I was just going to make a song. But it turned into me asking him, "Hey, what if we did a project with this style?"
From there, he sent me beat after beat, and I came up with the concept of a kind of life journey, and how we can get distracted from our true desires. It was like breathing; like it'd been living inside me forever and was just waiting to come out.
My engineer and Zen Master, Septembers1st (also a talented producer), so diligently and patiently worked with me to get it to sound just right; just like we were moving around the city in the 1930's and 1940's.
You were also featured on track 5 of DJ Pain 1's mixtape "Painkillers Volume 2" on the song "How About Now". Did you have a relationship with Pain prior to the song?
I met DJ Pain1 on Twitter about 6 months prior to the "How About Now" song. I always admired his work and the fact he was so adept at the genre-bending. He put out a call for submissions, and something inside me told me to do it. I did, and it was a great experience. I immersed myself for 2 days and wrote 3 songs for him, and this was the one he chose.
It was a true blessing to work with him, and I've already begun work on some other songs with his tracks, which will likely go on an album.
How & where do you draw your musical inspirations from?
I draw inspiration from a wide variety of artists. On any given day you can find me studying Aretha, Wu-Tang, Billie Holiday, Tupac, En Vogue, Pink Floyd, Muddy Waters, and Bootsy Collins, for example. When it comes to writing, Love is definitely a big theme with me, but human and spiritual struggles and journeys show up a lot too. If it makes me feel something, I want to write about it. A lot of it comes from memories or stories I hear, but what it all comes down to is just life.
Your most recent project that's drawing  major attention is "The Soul Stacks," a collaboration between Chuck.$oul[beats] that follows in the traditions of the late 1960's & early 1970s soul movement. It seems you're drawn more into music from previous era's, why is that ?

The main reason I am drawn to this vintage music is because it is so raw. The feelings are right there, and there's not a lot of effects masking the emotional grit. It makes me feel. I've often said I was born in the wrong decade, but then, I think, maybe I was put here to remind this era of what those times brought us.
What's up next for CandaceK?
My next project is going to be "Stellar," and it's a concept EP with beats entirely created by the legendary Ski Beatz. It's coming late 2014. I'm also catching up on my collabs, and there will be several singles coming out from producers around the globe in all genres and lots of collabs with talented emcees. A full-length album has been in the works for some time now, as well. I am carefully selecting and crafting this at my own pace.
Where all can listeners find you online?
Soundcloud.com/CandaceK is where I am most of the time, but you can also find me on:
Twitter: @candacekthe1
Facebook: facebook.com/candacekmusic
Web: CandaceKMusic.com
Instagram: candacekthe1
Lastly, is there anybody you'd like to give thanks to?
So many people have been instrumental in this journey. I want to truly thank the talented people I work with and will soon work with. Thank you to the people I love and the support they give me. Thank you to all the people I've met and been inspired by. Thank you to anyone who has ever pressed play on one of my songs. Thank you, God, for showing me at such an early age why I was put here and thank you so much for having me!
CandaceK sets the bar high when it comes to music, not only for Soul & Jazz but for the overall feel of music in general. Please make sure to download all of her projects online & stay tuned for more from the songstress in the times to come.
Written By: blitzb_60505