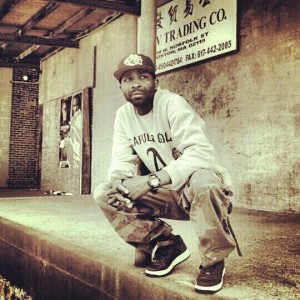 1. What's good BisnesAsUsual? For those new to the name let everyone know where you are from and what you do.
I'm a Brooklyn NY native, East New York to be exact. My pops lived in Flatbush, Brooklyn so I spent a portion of my youth there too. I've been all over the place, I've even spent a little time in Richmond, Virginia but as of right now I reside in Boston. There isn't really one thing I do because truthfully I pride myself on wearing many hats and being able to do a little bit of everything. I feel like you have to be diverse to be successful in this industry or in life in general for that matter. I produce and write all kinds of music from pop to R&B but I would say I specialize in hooks and intelligent street hip hop.
2. Who are some of your musical influences as an emcee?
Oh man, where do I begin? My peoples are from West Indies so I grew up listening to a lot of soca, calypso and reggae music. I have an eclectic hear for music as well so I naturally gravitated to all kinds of music as a kid. Ironically some of biggest musical influences are not hip hop artist. Phil Collins and Sade are two examples of artist I draw a lot of inspiration from…weird huh? I think sonically and malotically they make timeless music and that's what I strive to do. Of course I have hip hop influences like Jay, Big, Nas, Pac and Em guys like that But truth be told I was more influenced by rap groups like Boot Camp Click, M.O.P, The Lox and Mob Deep.
3. You recently performed at 3 different iStandard Producer Showcases in the Tri State. What can potential fans expect from your performance and speak on the iStandard experiences thus far.
Well first and foremost I want to send a big shout out to iStandard for the look, it opened the door for a lot of other networking opportunities. What people can expect from my performance if they came out to see me, is a lot of energy and crowd participation. Performing is kind of like sex, its only good if the participants involved are enjoying their self. My experience working with iStandard has been dope so far, what those guys do for up and coming producers and artist is paramount for hip hop. As an indie artist I know first hand there aren't to many outlets and medians out there for us other then the internet and social media. iStandard does a great job of providing other ways of getting exposure.
4. You have also received a lot of love via online radio with stations such as F.L.O Empire and Radio Airplay just to name a few. How has that helped spread the word of your talents?
Shout to F.L.O Empire and Radio Airplay, their support has been a tremendous help in getting my music heard and shared to an audience that I probably never would've been able reach. Its crazy because just a few years ago online radio was a after thought and now a days that's where you want your music to be played. With online radio you can touch a lot more markets and regions that you can't touch thru syndicated radio. Don't get me wrong getting spins on syndicated radio is very important and can do great things for your career, if your looking for commercial success. With the internet and social media I think there is a general consensus among independent artist that commercial success is overrated.
5. You recently had indie features in WWS Magazine and 24HourHipHop.com. How important is getting the sites and blogs behind you to help present you to the world?
Yeah like I said the world wide web is a beautiful thing and the game is totally different because it. I think at first everyone was a little apprehensive and worried that it would fuck up the music industry. No one was sure how to benefit from it and now that the smoke cleared its obvious that it definitely has its benefits. It actually gave all the power back to the artist and now the consumer can get their product without the powers that be getting the way, which is a blessing for everyone. Without these bloggers, social sites and internet publications backing you, your pretty much dead to the world as an artist. So yeah my main focus is to maintain and continue to build on my internet presents.
6. You have been working with your main producer C Tha Magnificent for a while now, what's the chemistry like in the studio and how does he compliment your sound and you his?
Yeah C Tha Mag is my homie, I've been working with him for the last 4 years. At this point the chemistry is crazy and we don't even have to say much to each other. Its a perfect marriage between two musical minds. with his gospel and R&B background and my hip hop knowledge its a perfect contras which compliments my flow. We've manage to create this soulful, melody filled, street sound that we can claim as our own…working with him is dope!
7. What else are you working on in 2014?

This is setting up to be a big year and we have a lot of exciting things on the horizon. As usual I'm always in the studio creating, collaborating and producing new material. I'm in the process of putting some final touches on my debute project "Mr. Sikamore" which is slated for a spring release. Shortly thereafter I'm going to put out a EP which will be available on my new website we're working on, along with 100aGram merch. In the meantime we going to continue to put out new material and videos.
8. Where can we find you online?
you can find me everywhere online @BisnesAsUsual
soundcloud.com/BisnesAsUsual
youtube.com/BisnesAsUsual1
twitter.com/BisnesAsUsual
instagram.com/BisnesAsUsual
9. Any last shout outs?
I want to send a major shout out to all my supporters, my 100aGram team and another shout out to the whole iStandard staff