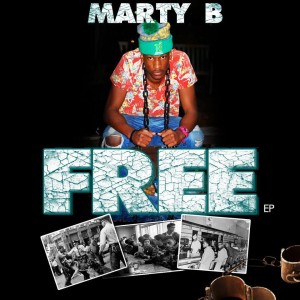 Marty B had a love for music that began in the womb. His mother's love for music found its way naturally to his soul; but like most kids, Marty grew up trying his hand at sports and all things that boys love. In hopes of pursuing his dream, he attended several NBA sponsored summer camps; Marty had great potential but most of all, he had heart. Despite having the right stuff there was still a void.
His desire to play ball soon fizzled and his heart followed. Yet another dream was pursuing him with fervor & passion. Music was seducing Marty by the way it made him feel when he released his pain onto dope beats. Marty is an introvert but his music allowed others to feel the things he could not say. Growing up as the first son of a Legend and accused kingpin from the DMV; (Washington, DC, Maryland and Virginia area), Marty knew rejection and growing up wanting & needing the love of his father all too well. Marty longed for the affections of his father, but they were rarely returned. Music, through beats and lyrics, gave Marty the outlet he so desperately needed. In the music, we hear his pain, struggles and tales of being a young man left to learn about Manhood on his own.
Despite the support and love of his mother and extended family, Marty needed more than the love of 10,000 mothers could give. Then Hip-Hop stepped in and became his father, counselor and friend. His ability to express himself through lyrics gave him the outlet he so desperately needed. He pursued music like his life depended on it. The void was filled and a torrid relationship began; they have been together ever since. Music has become his first love. Music granted Marty the ability to BE… now him and music IS…for that Marty B LIVES. Welcome to the world of Marty B Music… A voice of struggle… pain & passion… a message with good music.