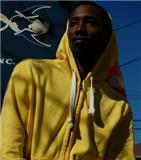 When did you start to develop your artistry?
I started rapping in my mid teens,  around 16. I was inspired by my homie Young Dice, who was already doing his music thing. Initially, I was a member of the group Chozen Onez(C1z) led by Dice which included a few of our other childhood friends. As a part of C1z, I did a few local shows, engaged in a couple  rap battles/hood beefs(LOL), appeared on Dice mixtapes, and recorded numerous songs with the group. But as Dice continued to make his way and find a lane for himself, I got much better, and way more ambitious with this music shit. Then my man V.I., one of the older gods in my hood who was doing his mgmt thing, noticed my talents and growing hunger. He took me under the wing as my manager, and gave me access to his home studio. That's when I really started mastering my craft along with my partner/producer, Million Dollah Rah. Together wit V.I.'s mentorship, we built the vision for our own music company, Get Cream Team.
Who are some of your musical influences?
Well, I was influenced early by  NYC's finest, #SnowDatt!; B.I.G., Jay-Z, Nas, 50 Cent-G.Unit, Jadakiss-D.Block, Camron-Dipset, Fabolous-Street Fam, and I can't forget Stack Bundles(RIP). Then I started listening to certain Down South rappers such as Weezy, T.I., Jeezy, & Rick Ross. But I like a few of these newer acts out from other regions too like Big Sean, Wiz Khalifa, Drake, J. Cole, Wale, & Nipsey Hussle to name a few. I'm a fan of hip hop in general, and of course coming from the streets of Southside, Queens that's my 1st perspective, but I tend to appreciate any music that motivates me to get money, stay fly, and have a good time. I also like the introspective style of rap that let's the artist reveal a deeper part of themselves to their fans.
What current projects are you working on?
I'm finishing up my debut mixtape, 'S.N.O.W. C.R.E.A.M.' That will be my formal introduction to the rap game. Its a street themed project for my core fanbase, bringing listeners into my day to day grind & hustler state of mind. That's dropping late winter/early spring. Then I got another more mainstream/radio/commercial appealing project called 'The Slim, Darkskin, Tatooed, Rap Dude' which I'm a start working on after 'S.N.O.W. C.R.E.A.M.' I wanna drop that mid Summer. I plan on finishing the year off wit the second volume to 'S.N.O.W. C.R.E.A.M.' mixtape series which will introduce my crew, S.N.O.W. GANG.
How are you planning to 'Get Your Buzz Up'?
Expect to see me rip the stage at various showcases throughout the tri-state area, NY-NJ-CT. Possibly do a few shows in other cities too, maybe Philly, Boston, & DC too. My mixtapes will be available online, thru various music sites and my own profile pages. Me and my team will be reaching out to a lot DJ's looking for radio/club rotation, and mixtape placements. I plan on shooting a few viral videos for singles off 'S.N.O.W. C.R.E.A.M.' and 'Slim, Darkskin, Tatooed, Rap Dude' for web promotion. Hopefully, I can get more articles & interviews done giving me exposure. And of course, I'ma stay on the grind in my hood, and keep SNOWIN on these streets buzzin wit my S.N.O.W. GANG.
Where can we find you online?
Facebook.com/CASHPROFIT
Twitter.com/CASH_PROFIT
YouTube.com/BigSnowCASH
Any shout outs or Plugs?
Yeah, shout out to Rochdale aka Gwopville, and the rest of Queens; all my C1z niggaz, my Get Cream Team partners Dollah Rah & Marc Milli, my manager Vic Imperious, & the whole S.N.O.W. GANG; all the people that's been showing love & support, my family, friends & fans; and lastly thanks to J-Hatch & Get Your Buzz Up for the opportunity and exposure. Check for that 'S.N.O.W. C.R.E.A.M.' mixtape this winter & 'Daily Profit' web series coming this Spring! Live for the C.R.E.A.M., Die for the T.E.A.M. #SnowDatt!!