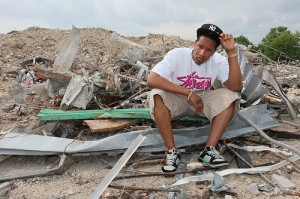 Tell us about you and your movement
I'm JetNoiseCardi born and raised in Suffolk, Virginia. Currently I'm based out of Norfolk as a artist of Boardroom Music Group. I've been recording music for 9 years.

When did you start to develop your artistry?
I started writing music at about age 11 because I had a cousin who was really heavy on the underground scene. I was inspired so I started writing my own music. At age 14 I started traveling to New York to record, and eventually landed Cheebah Studios which was where my cousin recorded a lot of his music. I recorded off and on from then until I was about 21 and then that's when I began to take music serious and really treat it that way. Since then I've performed on stages from New York, Boston, Philly, Miami etc.

Who are some of your musical influences?
My primary musical influences are my cousin, Knotty, and Kanye. Knotty was the entire reason I ever wanted to pick up a microphone at all. Kanye was huge for me in my development as a artist. He was always so hands on with all of his projects. Picking beats (or making them), of course recording, working hands on with the engineer, fashion, and his entire marketing strategy.
What current projects are you working on?
Right now I'm preparing to release Snappage Vol 2: Route 13. Its hosted by Jahlil Beats and DJ Epps. Its actually the follow up to Snappage Vol 1 which I dropped in the 1st quarter of 2010. We got the name because all of the production is done by producers from the Tri-State area(PA, NJ, Deleware). Jahlil, Sap, Music 4 Food, and Young Tone all contributed to the project production. DJ Epps(G Unit/Shadyville/Coast2Coast) mixed the whole project which was huge. We've got a lot of people behind it, including Coast 2 Coast Mixtapes and of course the good people at I Standard and Get Your Buzz Up!
How are you planning to 'Get Your Buzz Up'?
You can't give away the secrets LOL I'm getting my buzz up in a lot of different ways, but one of our focal points is the internet. Its a digital age and so as much publicity over the internet that you can get, the better! There are more people to reach via the internet than anywhere else and we are planning to take full advantage of that.
Where can we find you online?
JetNoiseCardi.com
Boardroommusicgroup.com
Twitter.com/JetNoiseCardi
Youtube.com/JetNoiseCardi
GetYourBuzzUp.ning.com
GOOGLE JETNOISECARDI
Any shout outs or Plugs?
Shouts to the whole Boardroom, J Hatch and everybody at I Standard, the whole Coast2Coast family, Jahlil Beats, 215 Aphillyated, DJ Epps, and my man J Hatch!