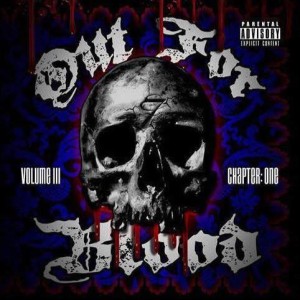 Seven Oddities Records are the unsung and often unmentioned lyrical powerhouse that's been hand crafting their own brand of Hip Hop since the dawn of 2000. Since it's conception, the rhyme house megalith has carved it's name deeply within the underground Chicago Hip Hop scene and has also became a mainstay at the legendary Sub T Lounge, performing numerously in and around the Midwest area. This year, the crew plans to take their sound outside of the 773 and into fan's homes nationwide with that classic hardbody sound that elevated the genre to it's upper echelon level with the release of the four part "Out For Blood" series of mixtapes. Join us as GYBU serves up an in depth, track by track review for 7oddz "Out For Blood Vol. 3 (Chapter 1)" project, the beginning stage of the #YearOfTheOddz.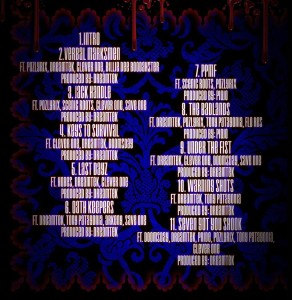 The insanity begins immediately on the "Intro", a sample from an unlikely source, 1992's "Glengarry Glen Ross", is utilized to set the mission statement of the "Out For Blood" series. The 7 has been in the game fifteen plus years and counting but are as hard as ever with this project. When it cuts off is when first blood is shed as we move into "Verbal Marksmen". Who better to send into the line of fire for a full on verbal onslaught than Poz Lyrix, DreamTek, CleverOne & Billy Dee Boodahster? Tek provides a beat straight out of an action/ adventure movie. Poz' brash baritone delivery sets up Dream's pissed off, over the top lines that's earned him the so called title of "asshole of the group". Clever than comes sharp as he always does, with a vernacular display comparable  to that of GZA. BDB lays out a memorable hook with full on sung melodies sure to be stuck in your head for days.
What kind of album would this be if we weren't provided with a liquor chugging anthem from 7Oddz, enter "Jack Handle". The song was released as the second of three videos being utilized for OFBV3C1 campaign push and features another opening verse from Poz, who wastes no time finding his cadence with lyrics like "Roots got the brass knucks?/ fistacuffs like nunchucks/ the buck stops when punks jump/ they're shittier than sump pumps". Scenic Roots follows suit with his own stride and sits well within the blues infused production. CleverOne once again plays clean up and leaves no heads attached to their torsos with Save One providing the booze infused chorus line.
After a quick phone skit, "Keys To Survival" begins with Doomsday setting the tone of the track. We're then treated to a raw hook from CleverOne who issues a warning to the unfamiliar: if you're from outside the zip code ya better tip toe with a verse to follow. This sets up Dream to unload his mind over the congo drum laced instrumental. "Last Dayz", the epitome of what real Hip Hop sounds like. This is one of my favorite tracks from the mixtape and we find Clever, DreamTek and Hobes in prime form. From the start of the song, shit gets dead serious and real fast. The beat alone gives off a sense of urgency. No need to worry cause as long as the Oddz are here, you can bet your bottom dollar weak artists will duck and run when coming into contact with them. The chorus is extra special with all three emcees performing together, a perfect match for this recording. This song also happens to be the debut single alongside a video that elevates the overall feeling ten fold.
A hyped up Kenny Powers intro sets up the mixtape's next record, "Oath Keepers". This song can be classified as one of those classic NY styled posse cuts. Tony Pantagonia and Tek provide a back and forth hook with Arken9 and Save One providing warrior infused lyrical approaches. "P.P.M.F." is the sole song on OFBV3C1 that features less than 3 members. Again revisiting the western theme blended with a splash of 007, we get a dual effort from Scenic Roots and Poz Lyrix. The song is also one of only two songs not produced by DreamTek. This time, the beat is handled by Piojo and the same goes for the next joint, "The Badlands". Opening up with eerie circus organ riffs, Poz and Tek provide top tier performances with a feature from the raspy voiced Flo Res. This is followed by Tony Pantagonia delivering the final blow for this OFB cut, another of my favorites from the project.
Continuing with the haunting intros comes "Under The Fist", with Dream heading things off with more of a concentrated wordplay that is merged mid verse with CleverOne. The fellas do a spectacular job of utilizing the out for blood term into some of the chorus lyrics, as with this drop. This cut gives me flashbacks to The Firm days with it's mafioso persona. Again, another harsh posse cut from the 7. We get an offering from the Hip Hop blues brothers, Patagonia & Tek on "Warning Shots" which then brings us to the dramatic conclusion of OFBv3C1, my favorite cut from the mixtape, "Seven Got You Shook". This is the track that proves without a shadow of a doubt, 7oddz is a label to watch in 2016. It's an audio definition of the group as a whole. This is real Hip Hop, Chicago style. In peak performance mode, listen as Tek, Tony, Poz, Clever and Pride showcase just why Seven Oddities isn't to be fucked with. This song is also rumored to be the third and final video to be released for Chapter 1.
Honestly, I cannot believe this is only one chapter installment of four. OFBv3C1 plays like a stand alone album. Not only is the mixtape great but I personally recommend it. 7oddz delivers the project many of us Hip Hop fans have been yearning for, an album full of solid production, top tier wordplay and an ability to seamlessly merge lyrics between one another. Again, I have to bring up the term, "Wu-Tang Clan Of Chicago" cause the more that I listen, the more I see the resemblance between the two's musical craftsmanship. Do yourself a favor and listen to this album from start to finish. GYBU approved, check out "Out For Blood Vol. 3 (Chapter 1)" below.
For a limited time, download the first two volumes of "Out For Blood" for free by heading over to  www.7oddz.com.