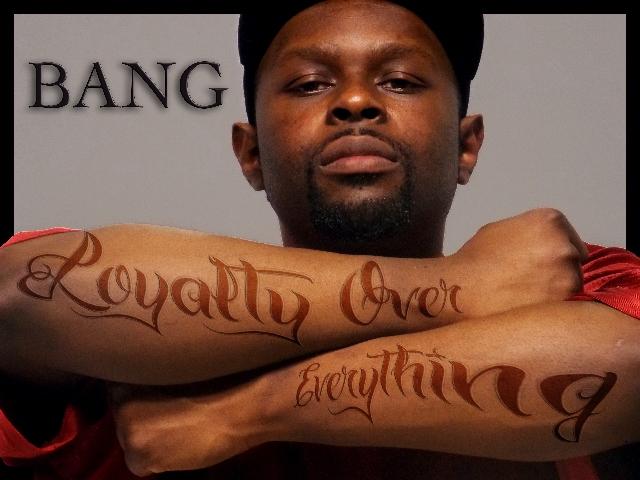 Chicago, Illinois rap artist Bang debuts his latest mixtape, "Loyalty Over Everything", via Get Your Buzz Up which features ten tracks and and two singles titled "Paying Bills" and "Keep It 100". The Windy City representative also scoops up beats from producers Keeko Bros, Troy Kartens and Loudpack Music. It's only right since Bang dropped his mixtape exclusively on GYBU that we do a track by track review of the "L.O.E." mixtape in celebration. So let's press play and get into the mixtape.
The project kicks off with a few select words from Bang on "You Already Know". The beat alone had me hooked in with the heavy synth production and wavy drum programming. If you're from Chicago or the streets in general, you should already be hip to what Bang is speaking about on this track. This was a great selection to start the mixtape off with. After this song dies out, we get treated to some select words on "Bang Talks" which immediately kicks into track three, "I Don't Fucks Wit You". Another solid street record with a slick effected organ instrumental that evokes energy throughout the entire duration of the recording. We're then treated to the first single from "F.O.E." titled "Paying Bills". Don't get it twisted though, this isn't a record talking about monthly bills but in fact an ode to the local gentlemen's club. Although these types of tracks have already been visited time and time again, Bang does a decent job switching it up and recreating the concept.
"You Aready Know" –
The mixtape then takes an unexpected turn on "Keep It 100". I wasn't anticipating a song like this from Bang to be real. No wonder why he dropped it as a single, it's a very emotionally driven track speaking on honesty and how it's a dying character trait these days. The Chicago rapper continues to follow this protocol on the amped up "Only God" in which he details the downsides of living in the inner city. Keeko Bros man the beat on the next record, "Bang Dat". This is shit talking record to the fullest, Bang pumps his chest out and puts on for the whole city on this one. Though it's not a standout song, the catchy beat and hook keep the mixtape moving along smoothly.
"Keep It 100"–
The next record, "Chicago", gives "Loyalty Over Everything" a unique spin. Known for standout landmarks and it's predominant gangster upbringings, Bang revisits the Roaring Twenties sound and flips it into a song dedicated to his hometown. This record is the epitome of The Windy City and in my opinion, deserves to be a single with an accompanying video to match. If you do anything, make sure to check this track out. The mixtape then starts to come to a close on the title track, "L.O.E." and closes out with Bang speaking on the loyalty he has for his own on the "L.O.E. Outro".
"Chicago" –
Bang does a great job on releasing a solid mixtape. In fact, this project should have been categorized as an EP more so than a mixtape with it's original production and songs such as "Chicago", "You Already Know" & "Keep It 100". Off of first assumptions, I hear the name Bang and Chicago and automatically thought I was in store for some Drill music but boy was I wrong. Although there are solid street records on "Loyalty Over Everything", the Chicago artist shows he's more than just some street rapper with this release. Make sure to download a free copy of "L.O.E" while streaming the mixtape below.
Reviewed by: @blitzb_60505