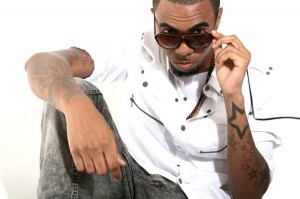 NYC STAND up! LOL What up Arsiney? Studio grind is all I read about when I read about you, so tell me when does the album drop cause I know you have your eye set on an official joint!

Well, as of right now there is no date or title yet because I'm still working on my mix tape. Everything I do I treat as if it were major; I treat my mix tapes like albums, my albums like my first and or last, and my shows like concerts. So when I'm working on any project that's where all my focus is. Right now I'm working on my mix tape INSOMNIA, and it's going to be effing insane, it should be out spring 2011.
Compare, compare! I hate when people ask me to compare myself cause I'm me and no one does you better than you ya dig? BUT eff that! Why should I listen to your music? What makes you stand out?

Well you should listen to me because I define real, raw, amazing talent. When I say raw I don't mean undone. I just mean untainted, I have no execs breathing down my neck telling me what kind of music they want me to make; I will never compromise my talent. I make music that comes from my soul and I generally love what I do. My fans can be sure that they will always receive quality work when it comes to me.
Winter is here play boy! NYC can get very, very cold! Tell us how you plan on heating up the MIC, any events lined up?

I try to keep everything I do exclusive because I feel like my music deserves that seal of excellence. Everything is so mass produced and half assed now a days that I want my fans to feel privileged to have my music, or see a show because I work hard to make it great for them. They deserve it to be exclusive. In general I plan on expanding on my ever growing buzz and proving to people that I'm more than just an underground artist or a one hit wonder by flooding the industry with real creative music and raw presence. I have a few events coming up that u can find out more about by subscribing to my blog arsiney.blogspot.com
How long have you been a rapper?

I've been rapping since the age of 9 and recording since 12. I started making music that I was 100 percent confident in at about the age of 22. I'm 24 now so lets say 2 years, lol how's that for math.
I understand you also write and produce music as well..

Yeah. I've been making beats almost as long as I have been rapping and I started really understanding production at about 18.
What software and equipment do you use when making beats?
Protools and assorted tricks, cant give away all the magic lol. I used to use reason and I just started working with fl studio.
You're actually in the studio right now working on your next mix tape, Insomnia, is this mix tape solely produced by you?
No honestly I don't think I would ever entirely produce my own album. As an artist I get hype off of other peoples beats, and as a creator I love working with other talented ears and minds.
With the city to city showcases that you've been involved with so far, which city shows you the most love?
New York baby all day and I love my city back!

Drop those online contacts, how can we find you and download your Mix tapes?

Follow my blog arsiney.blogspot.com, and u can join my mailing list on my blog site.
Also follow my twitter twitter.com/ and my myspace Myspace.com/arspage
Again Arsiney, thank you for chilling with GetYourBuzzUp.com, knocking out this interview! Much success! Any shout outs?

The whole ICM fam. Everybody who follows and supports my music. All my twitter fam.
Every artist that I have worked with and those I will work with in the future, and shout out to you reading this, yea YOU