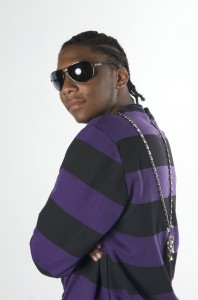 Written by Pink Cookiz
What it is Young? Let the readers know why they should be familiar with you?
They should be familiar with me because I make good music which can be found on a variety of blog spots. My single shopaholic really gave me a push and was the first to really make my music recognizable to the public.
Tell me your opinion on the state of underground Hip-Hop and how do you situate yourself in it?
I love the underground scene. To me they make the best music and are really on their grind. I don't consider myself an underground artist but I support them without a doubt.
How is it working with Audi Rob? He's a pretty dope artist.
It's dope working with him, he is someone that everyone should work with. He is out of the box and really knows his craft, I am honored to work with him.
What's your creative approach?
It's hard to explain but I'll try. I draw inspiration from my life and what I am going through. Its not something I think about, I just do it. My music in part is the soundtrack to me life, that is my approach. I don't have a pattern.
What do you do when you're not in the studio?
I grind even when I am not in the studio. I am always Writing, listening to beats, and promoting my projects.
When's the mix tape dropping?
Right now I don't have a release date, but when I do everyone will know about it
Let's talk about "Super Cool" and the production on that track.
The first time I dropped super cool, it got 15,000 downloads in the first day and 20,000 by day two. "Soulja boys tell em's" artist "wonton" produced the track for me. It really has been a movement and to date one of the biggest downloads in my catalog.
What's the deal with "Bring New York Back"?
Bring New York Back consist of ICM and numerous artist, recognizing that this is the birthplace of Hip Hop. It started here but no one seems to acknowledge New York Rappers anymore. Shout out to the south and west but we need to bring it back to its origins and we will. This is history, baby.
Any events or parties coming up?
We do have a lot of shows coming up. I don't have all of the details but I know a few will be in Philadelphia, Queens, and at New York University (NYU) and lets not forget the official Ladies Love Cool Dre Part 2 album release party.
Our time is up, for now! Lol any shout outs, last words?
Yes. Download Ladies Love Cool Dre part 2, it is classic material. Be sure to follow me on twitter @TDmoneydre, and myspace.com/youngmoneydre.